Helping People With Hypnosis Since 1996!
Founded by Rick Collingwood in 1996, Mind Motivations has now helped more than 1 million people with our personal hypnotherapy recordings. Throughout this time we have seen many changes within the hypnosis industry. One thing though remains constant - the ability of our time-tested proven audio programs to make a difference to people's lives. Choosing any of our 200+ MP3 download or CD recorded hypnotherapy sessions, you can be confident that you are receiving the original and the best use-at-home programs available!

Rick Collingwood
Rick is one of the world's leading hypnotherapists & author of the ARIA award winning Life Improvement MP3/CD range.
Bio & Products

Giovanni Lordi
Giovanni is the author of 130+ hypnosis programs, the book The ToolBox 4 Life & co-founder of Mind Motivations.
Bio & Products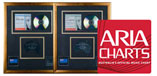 Multi Platinum & Gold Records (ARIA)
We have helped many thousands of customers with our extensive catalog of hypnotherapy recordings. They are effective, trusted & proven products for making changes.
Choose a category below to begin
Top selling hypnosis downloads & CDs