Hypnosis for Superconsciousness MP3/CD - Giovanni Lordi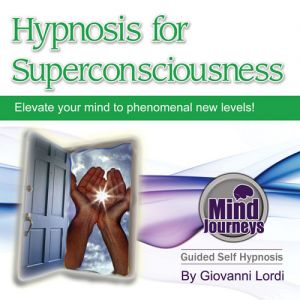 Remove all limits to experience new levels of mental awareness & perception!

Elevate Your Mind to Phenomenal New Levels!
Purpose of this Program
This hypnosis session is essentially all about the process of changing 'what if' to 'I am'. It is about exploring the possibility of the impossible, or at least making inroads to heightening your own sense of self, purpose, abilities, spirituality and meaning. We thoroughly enjoyed developing and producing this program, and are really looking forward to hearing people's results.
This session is designed using spoken hypnosis & low brainwave entrainment techniques to access parts of your mind that can only be unlocked through exploring different levels of consciousness. In doing so, the spoken hypnosis will help direct new ideas & processes to be implemented subconsciously & then consciously put into action, helping bridge the gap between the parts of the mind, to create a level of complete realization, also known as superconsciousness.
What is Superconsciousness?
Superconsciousness, also known as 'higher consciousness', has it's roots as a spiritual concept, but is now also being explored through quantum physics and other methods. Many religions and 'ways of life' have explored this idea, most notably Buddhism & Hinduism, through meditation, prayer & transcendence. Essentially superconsciousness is about elevating your mind to new levels of awareness, thought, perception, purpose, and meaning. It is about viewing the world, and your place in the world, from a wider perspective, by removing the 'kilesa' which the Indian's refer to as 'clouds covering the sun'. By removing the clouds metaphorically speaking, you can uncover more of your own abundant inner potentials, and experience a true connection with the universe. From a more 'scientific' perspective, it is about actively using more of the parts that comprise your brain, on their own, or at the same time. It is about uncovering new neurological pathways in the brain to experience different thoughts, awareness and connecting the conscious & subconscious parts of the mind to affect your waking consciousness.
Background for the Hypnosis Program
This is a powerful hypnosis session, and because of that we have been duly testing the effects of it with 18 different people over 6 weeks before releasing it here for public sale. The results reported were quite amazing, and everyone noticed a positive shift  in their overall consciousness and general thoughts, attitude & abilities. Originally borne as a 'private' program for a few of us here at Mind Motivations and some close friends, we see a great deal of potential in this type of program, and will be releasing more similar sessions in the time to come.
What We Hope For You to Achieve
Achieve complete awareness to everything within & outside of your consciousness
Realize the full potential within your subconscious mind
Improve memory, creativity & learning abilities
Raise your vibrations to the 'Present' to live completely in the moment
Promotes a more clear process of feeling – thought – action
Heightens your sense of purpose through a spiritual connection
Helps remove boundaries of what is perceived as not possible
Promote your powers of intuition & 'complete knowing'
About Using the Program
One thing we would like to point out is that the binaural beats on this MP3 progress all the way down to 2 Hz Delta, and the spoken hypnosis has multiple 'deepeners'. Basically this just means that it will take your brainwaves down to levels much deeper than the other hypnosis sessions in the Mind Journeys range. In saying this, it is a very pleasant experience, but you should start off using this program no more then once a day, just to make sure that the shift is not too much for you and then gradually increase listening frequency if desired. If you use it too much the symptoms are not dangerous, you may just simply feel lethargic during the day & possibly not as clear headed in the initial stages. Over time however, the results we have seen from this program, will start to form a new level of awareness for you and the 'world will open up' to you more, so to speak.
If you stick to the same '6 days on' then '1 day off' listening frequency for 6-8 weeks, you will get the best results from this program.
About the Spoken Hypnosis
The spoken hypnosis component on this session is a little different to other programs, mainly because there are multiple deepeners to keep taking you down to different levels of consciousness throughout the recording. There is an induction, metaphors, direct suggestions, visualization processes, some time without speaking and finally a 'wake up'. The subliminal messages (outlined below) are a little more audible then most of the other programs too. They have been routed through an audio effect using delay, which is progressively panned between the two sides of the stereo field. This will allow the subliminals to play a greater part in directing you towards experiencing superconsciousness.
About the Background Soundtrack
The main component that makes this background format special is that it contains binaural beats that progress from 6Hz (mid theta) all the way down to 2Hz (Low Delta). This transition is done gradually throughout the session, as the binaural frequencies slowly keep getting lower and lower, helping you to experience different stages of consciousness throughout.' Mixed in is also the sound of a human heartbeat at resting tempo, relaxing trance tones in the key of F Sharp, and the gentle ringing of a stereo bell. This combination of sounds makes for a very pleasant listening experience, but more importantly, it allows you to entrain your mind to experience the different levels of consciousness.
A Sample of the Hypnosis Script
"Ask and you will receive... now I ask for you to receive, for the greater good. You are aware of a secrecy code which unlocks your limitless abilities, and you being diligent. To this code there is a key... and keys to all knowing and abilities... you have this key... you do... I want you now to , remove all fears, be sensible, remove all doubts, confusion and what was... do this now... let it go so you can, and will, flow in the limitless... of your intelligence and abilities."
Product Specifications
Available formats:
MP3 Download (with option to choose a shipped CD for extra)
Tracks/Files:
01. Introduction.mp3 (5mins - 6MB)
02. Hypnosis Session.mp3 (54mins – 62MB)
Instructions.pdf (PDF – 2MB)
MP3 Quality:
Very high 160 KBPs Stereo quality - compatible with all MP3 devices
Background Sounds:
Binaural beats, bells, trance tones, rainforest sounds, birds
Trance Level:
6Hz Theta to 2Hz Delta
Download Info:
Links sent via email or downloaded from within your account. The files are NOT zipped, so you can download straight to your IPhone, IPad, computer or any mobile device. The links last for 5 download attempts with no time limit.
Subliminals
"I am limitless, I have magical powers, I am a master of creation, I am a wizard, I totally believe in myself, I trust myself, I have faith within myself, I have an inner knowing, I am strength, I am power, I am happiness, I have no limits, I am positive, I have a moral code, I am a winner, I am humble, I am powerful, I am healthy, I am successful, I am wealthy, I am a money magnet, I have healing powers, I am outstanding."