Devakant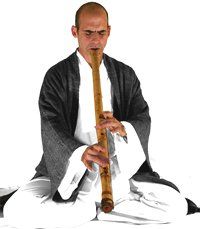 Devakant began his formal music education at age eight. He later studied classical harmony and composition at University of California at Berkeley. Devakant later became a noted student of North Indian Classical Music at the Ali Akbar College of Music in Marin County, California.
He originally visited India in 1978 where he studied vocal music. He traveled many times to India over a period of 15 years and lived there for over 7 years. He studied in Bombay with the world-renowned maestro of Indian Flute, Hariprasad Chaurasia. He also learned to play the Sarangi and Rudra Veena, two little known but deeply evocative instruments of Ancient India.
Other instruments Devakant has studied and performed with include trumpet, bamboo flute, bass flute, violin, viola, electric violin, Celtic harp, piano, kyotaku, koto, zither, Tibetan trumpet and Taiko drum.
Throughout his life, Devakant has studied with masters of both music and meditation, feeling that through his meditation practice he found a deeper kind of music. He journeyed to Hindu, Jaina and Buddhist temples, Tibetan monasteries and other sacred places, gathering the seeds which would flower into his own musical compositions. Currently Devakant has over 140 registered, published compositions (GEMA, Germany).