Hypnosis for Finding Zen MP3/CD - Giovanni Lordi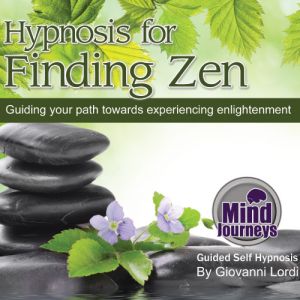 Reach your 'center point' & experience an enlightened state on the quest to find Zen

Expand your Consciousness to Experience Enlightenment
Essentially this hypnosis session is designed to guide you towards experiencing a state of Zen. Such is the concept of Zen that it is a destination which must ultimately be reached on your own accord. This session will help guide you close to it and allow you to free your mind and take the step towards enlightenment.
The Progression of this Session
Step 1: Hypnotic induction to lower the mind into a relaxed theta level through awareness of breathing, outside noises, inside noises, energy progressing up through your physical body and slowly switching off conscious thought.
Step 2: A deepener where time will seem like it stops to lower your consciousness even further down, to a level of simply 'being' and 'existing'.
Step 3: Preparing the mind - this section contains spoken suggestion and metaphors directed to your subconscious, to help you set the truth free, how words are only what they represent, about finding your purpose, how to carry this through to your daily life, and how to begin your path towards enlightenment.
Step 4: A final deepener to shift your consciousness even deeper, to a place inside your mind, closest to your 'true being', where your mind/body/spirit all become one and you can begin to become connected on every level and simply 'understand' things.
Step 5: The final stage is a personal meditation where you will be guided into a white light, wherein all spoken hypnosis stops, and the word 'enlightenment' fades away as you are left in your own inner peace. For half an hour you will be left to explore deep within your 'being' without distraction, to find your Zen state. This stage is accompanied by low theta binaural beats and soft music to maintain the trance, but with no speaking so you can pursue the final steps of your journey on your own accord.
Step 6: A Wake Up, which for this session, is on a separate track. If you have to wake up after the session finishes (1 hour 10mins), you just make sure you have track 3 lined up ready to play. If you wish to remain in your trance, or sleep, just play track 2 and skip track 3 in your media device.
Specifics About this Session
Regular use of this session will help you journey deeper and deeper each time, unraveling the essence of your true self the more you use it. Please do not expect to use this session once and that Zen will be revealed. It simply does not work like that. It takes time, practice and establishing layer upon layer of experience to reach enlightenment. This hypnosis session is free from any religious specific points of view. Although based on Buddhist concepts, the purpose of the program is to guide you towards experiencing complete clarity within your mind and body. It DOES NOT contain any suggestions to make you change the way you live your life, or to change what you believe in. It will only promote setting the truth free inside of you, based upon what your own personal beliefs are.
What is Zen?
In the context of this recording, Zen is complete self mastery and self awareness; a point where you become connected inside and outside. A place where truth is set free, and love and compassion flow freely, and the constraints of space and time are released to promote personal enlightenment. Zen is considered to be the realization of Buddha's own personal enlightenment, through your own time and own life. Where 'being' and 'doing' become connected, for you are not what you 'do' but what you are what you 'be'.
How Can Hypnosis Help Achieve Zen?
Traditionally associated with meditation, hypnosis can also be used to directly guide the listener towards the Zen state and build foundations to achieving enlightenment. Meditation is considered the act of reaching the point where there is no thought, hypnosis is the act of someone else suggesting an outcome subconsciously based on what the person is trying to achieve. In this instance hypnosis is being used to suggest the outcome of experiencing Zen, thus building the foundations and directing the mind towards the Zen state. At the end of the recording, the listener is left with 30 minutes where there is no spoken hypnosis. Essentially this is a state of meditation, reached through hypnosis, to promote the Zen point of no thought, just being. Together, these 2 modalities are used hand in hand to promote the Zen state.
A Sample of the Zen Hypnosis Script
"As with every journey, there is a start, and there is a finish, and what is in between, is the path. You can start here, and know that the finish, the end of the journey, is the source of Zen, and the steps that you take, they are the path to enlightenment. For to reach Zen, you must reach enlightenment first, for enlightenment, true enlightenment, is the source of understanding. It is being at one with the universe, your thoughts, your beliefs, your meaning, your place in the universe, and your connection to the universe. For you are more then just a collection cells, you know that, we all know that, deep inside, for as humans, we are all enlightened spirits, existing within and beyond the awakened consciousness, for what is real is the truth, and the truth is the first step of your journey towards enlightenment."
Product Specifications
Available formats:
MP3 Download (with option to choose a shipped CD for extra)
Tracks/Files:
01. Introduction.mp3 (5mins - 6MB)
02. Hypnosis Session.mp3 (69mins – 79MB)
03. Wake Up.mp3 (2mins – 2MB)
Important Instructions.pdf (PDF – 2MB)
MP3 Quality:
Very high 160 KBPs Stereo quality - compatible with all MP3 devices
Background Sounds:
Binaural beats, bells, monk chant, trance tones, rainforest sounds, birds
Trance Level:
6Hz Theta to 2Hz Delta (very low)
Download Info:
Links sent via email or downloaded from within your account. The files are NOT zipped, so you can download straight to your IPhone, IPad, computer or any mobile device. The links last for 5 download attempts with no time limit.
Subliminals
NO SUBLIMINALS for complete self-direction.