Pet Calm (Music To Relax Animals) MP3/CD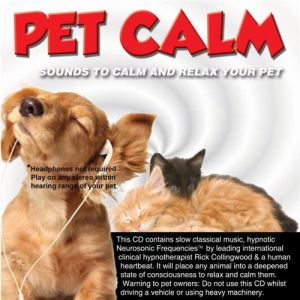 Special music and hypnotic frequencies to instantly calm any pet or animal - works on dogs, cats, horses, birds or any other animal.

Hypnotic Music To Calm & Relax Any Pet
This is a very special and also extremely effective CD or MP3 audio program for pets. The recording contains advanced audio techniques to instantly calm down restless pets and to help them become relaxed when you are not there.
Music for Animals...this is a bit different - How Does It Work?
Animals just like humans react to different sounds in different ways. Through our research we found that animals responded much the same way to the hypnotic Neurosonic Frequencies that we use on Rick Collingwood's CDs as humans do. They became instantly relaxed and absorbed the same way we do when we listen to a hypnosis CD. With further research and testing we added slow classical music with specific tempos and frequency range as well as a human heartbeat to form the perfect audio mix to calm any animal.
This CD or MP3 (you can download it and burn it to a CD or use through an MP3 player Docking Station) works on any animal. Different animals and pets do obviously have slightly differing frequency range hearing spectrum, but the sounds contained on this recording are all able to be heard by all animals because they are centered in the lower to mid frequency range.
The music and frequencies help calm and relax dogs, cats, birds, horses, guinea pigs, rodents, rabbits, mice and even cows.
Instructions for Use
Simply play the CD or MP3 on a stereo near your pet at a comfortable volume to start with. If they do not react initially keep turning up the volume in slight increments until they notice and acknowledge the music. It is fine to leave the CD on repeat when you leave the house or even when they sleep of a night time. Sometimes it may take 5 minutes or so until they become aware of the music and it starts to take effect.
What this CD will do is emit theta frequency soundwaves, which along with the music and heartbeat, will transition the animal into a relaxed theta state and also help block out any other distracting background noises. It is perfectly safe and will definitely not harm your pet in any way.
Think of this as relaxation music for pets!
This audio is perfect to help all pets and animals with:
Separation Anxiety issues when they are left alone
High stress and irritability
Restless animals that become a nuisance at times
Pets who have trouble sleeping
Help introduce and bond with children, family members and other people
Recover form an injury by helping sleep and relaxation
Training dogs and other pets
Dogs who are scared and sensitive to fireworks (play the CD when you hear the fireworks)
Animals that are sensitive to different sounds, situations and people
Commercial Applications for this Audio
This CD is useful for anything that requires the animal to be relaxed and calm. This includes in waiting rooms at veterinary surgeries, in the surgery room itself, horse stables of a night time to rest the animal, chicken pens or free range set ups to help hens become relaxed to lay eggs and even at pet grooming stations to make it easier to wash and clean the animal. We have many wholesale and also retail customers who we supply this CD for them to use in their various businesses involving working with pets and animals.
Bonding & Introducing Pets to Children / People
One fantastic application of this versatile program is to help introduce your pet to other people or children. To do this simply play the CD on a stereo and bring your pet and the desired people/s into close proximity of the music. They may be a little hesitant at first but just take it slow and let the music calm the pet and also the people so they become more relaxed around each other. When the time is right try to get the pet to approach the people/s and let them pati or even hold the animal if it is small. Repeat this process daily until the desired result is achieved.
How the Pet Music Series Started
We have been selling Rick's hypnotherapy CDs to many people who used them around their pets. First we got a little bit of feedback from people about the effects they had on the pets and then the feedback just started to really roll in. We had many requests to make a special music CD for pets and hence the idea was born. At one time we actually went into an animal shelter with a stereo and played the special Neurosonic Frequencies out loud. Almost instantly the 'very rowdy' dogs became quiet and the effect was actually quite amazing.
From this original idea we did some more research, adjusted the audio quite a bit and then came up with a final product which we tested on many animals. Now the CD or MP3 that you see here for sale is a professional and tested audio solution to many different animal problems.
If you own a pet then try it out for yourself. If you know someone who is an avid pet lover then this CD will make a great and somewhat 'unusual' gift for them. Either way, the results from this audio program speak for themselves and there are now many happy pet owners out there with this CD.
Charity Feedback...
Dear Ryan,
You kindly let me burn some copies of the Pet Calm CD last year, to help with frightened animals who we have rescued.  I have given a copies to some of our foster carers and a number of them have reported very positive results.
I'm including below another testimonial.
Tiani was a 'stray' cat being fed by an elderly lady (with her 23 other cat friends!). Tiani, and most of her friends, had never been handled and had to be trapped, desexed etc and then socialised by foster carers.
"I used this CD when I fostered a very timid, scared cat. I was amazed at how it relaxed her and turned her into a very different cat. I had the CD on many other times and, not only was the timid cat a changed cat each time, but it calmed the rest of the cats in the house. They all pretty much just became one group of chilled cats. Even myself and the dogs found the music soothing and relaxing. I cannot believe the changes in the cats. I still love just listening to the CD for the sake of it.
- Sab Brauer."
We're delighted that Sab has decided to adopt Tiani. Pic of Tiani attached.
Regards,
Lee
Volunteer Adoption Coordinator
www.foreverfriends.org.au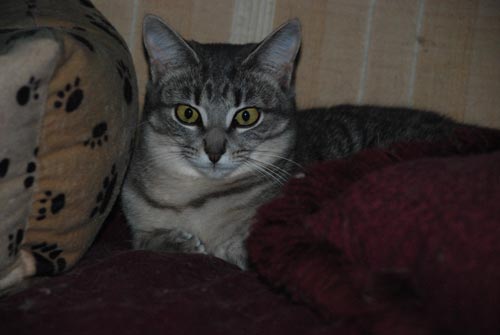 Product Specifications
Available formats:
MP3 Download (with option to choose a shipped CD for extra)
MP3 Quality:
Very high 160 KBPs Stereo quality - compatible with all MP3 devices
Background Sounds:
Neurosonic Frequencies (isochronic), classical music & a human heartbeat
Download Info:
Links sent via email or downloaded from within your account. The files are NOT zipped, so you can download straight to your IPhone, IPad, computer or any mobile device. The links last for 5 download attempts with no time limit.